Located in Central Oahu, for the past 47 years, Aloha Stadium has been Hawaii's largest outdoor arena and home to the University of Hawaii Rainbow Warriors football team. As the historic facility evolves into the New Aloha Stadium Entertainment District, or NASED, the stadium continues to host exciting events that attract local residents and global visitors, including holiday light shows, car exhibits, fairs and the ever-popular Aloha Stadium Swap Meet and Marketplace.  There is no greater place than the Aloha Stadium!
---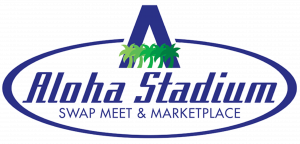 Wednesday's from 8:00am – 3:00pm
Saturday's from 8:00am – 3:00pm
Sunday's from 6:30am – 3:00pm
ADMISSION RATE
All parking gates are CASH ONLY
$2.00 general admission for 12 years and older
$1.00 admission for Kama'aina and Active Military w/ valid ID
Free admission for 11 years and under
**as a friendly reminder animals are not allowed at the stadium. Face coverings are recommended in large gatherings and social distancing is encouraged. Swap Meet is located outdoors in the stadium parking lot: Caution Warning: Surfaces May be Uneven.  Watch your Step when walking around.
---

ALOHA TO ALOHA STADIUM AUCTION AND ACTIVITIES
As the historic facility evolves into a new Stadium, the Stadium Authority will be providing the public one last chance to
tour the facility and the opportunity to purchase memorabilia and other items from this renowned venue.
A series of online auctions will be conducted by Oahu Auctions and Liquidations has begun. Auctions will include a wide variety of items including seats, turf, office and restaurant equipment, tools and other keepsakes.  For details visit Online Auctions and Memorabilia. We encourage you to subscribe today at www.oahuauctions.com for notifications on all upcoming auctions.