Aloha Stadium Swap Meet & Marketplace
Just 20 minutes away from Waikiki, discover unique treasures at Hawaii's largest open air market where the locals shop for the best deals in town.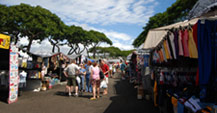 The Aloha Stadium Swapmeet & Marketplace is open three days a week, offering endless rows with hundreds of local merchants and artisans with the best value on imported merchandise, hand made items, eclectic art pieces, popular local snacks, and other made in Hawaii products. This is sure to be your one stop destination to find that special gift or souvenir for everyone on your list.
Following the announcement of the Kam Swap Meet closure, the Aloha Stadium Swap Meet & Marketplace is excited to open our doors to provide a new home for many of their longtime vendors. Starting Wednesday, March 8th more than ninety (90) of those vendors will be opening their businesses throughout the swap meet & marketplace venue.
Marketplace Hours: Wednesdays, Saturdays and Sundays from 8:00 a.m. to 3:00 p.m.
Swap Meet Hours: Wednesdays and Saturdays from 8:00 a.m. to 3:00 p.m., Sundays from 6:30 a.m. to 3:00 p.m.
Admission: $1.00 per buyer. Children 11 years and under are FREE.
WAIKIKI TROLLEY PURPLE LINE is now running!