Swap Meet
Aloha Stadium is suspending all events, including the swap meet, in accordance with COVID-19 response recommendations from the Centers for Disease Control and Prevention (CDC) and the Hawaii State Department of Health (DOH) to establish social distancing protocols limiting large gatherings. 
ALOHA STADIUM SWAP MEET & MARKETPLACE
After considerable planning and deliberation, the Stadium Authority, in collaboration with its managing company, Centerplate, has decided to delay the re-opening of the Aloha Stadium Swap Meet & Marketplace in order to ensure appropriate measures are in place to protect the health and safety of the general public, marketplace vendors, and its visitors.  A proper and comprehensive implementation plan includes procedures to ensure compliance and enforcement with the required health and safety guidelines established by the Hawaii State Department of Health, the Centers for Disease Control, and Governor Ige's Seventh Supplementary Proclamation that includes requirements for social distancing, face masks, and other preventative measures to slow the spread of COVID-19.   "Our objective is to ensure a safe venue and pleasant experience for all who visit the Aloha Stadium Swap Meet and Marketplace. We will continue to work with Centerplate to ensure a successful re-opening date in June. During this new way of operating, we thank everyone for your cooperation and understanding," stated Scott Chan, Stadium Manager.  Please check back for future updates and announcements.  (updated 5/13/20 at 12:30pm).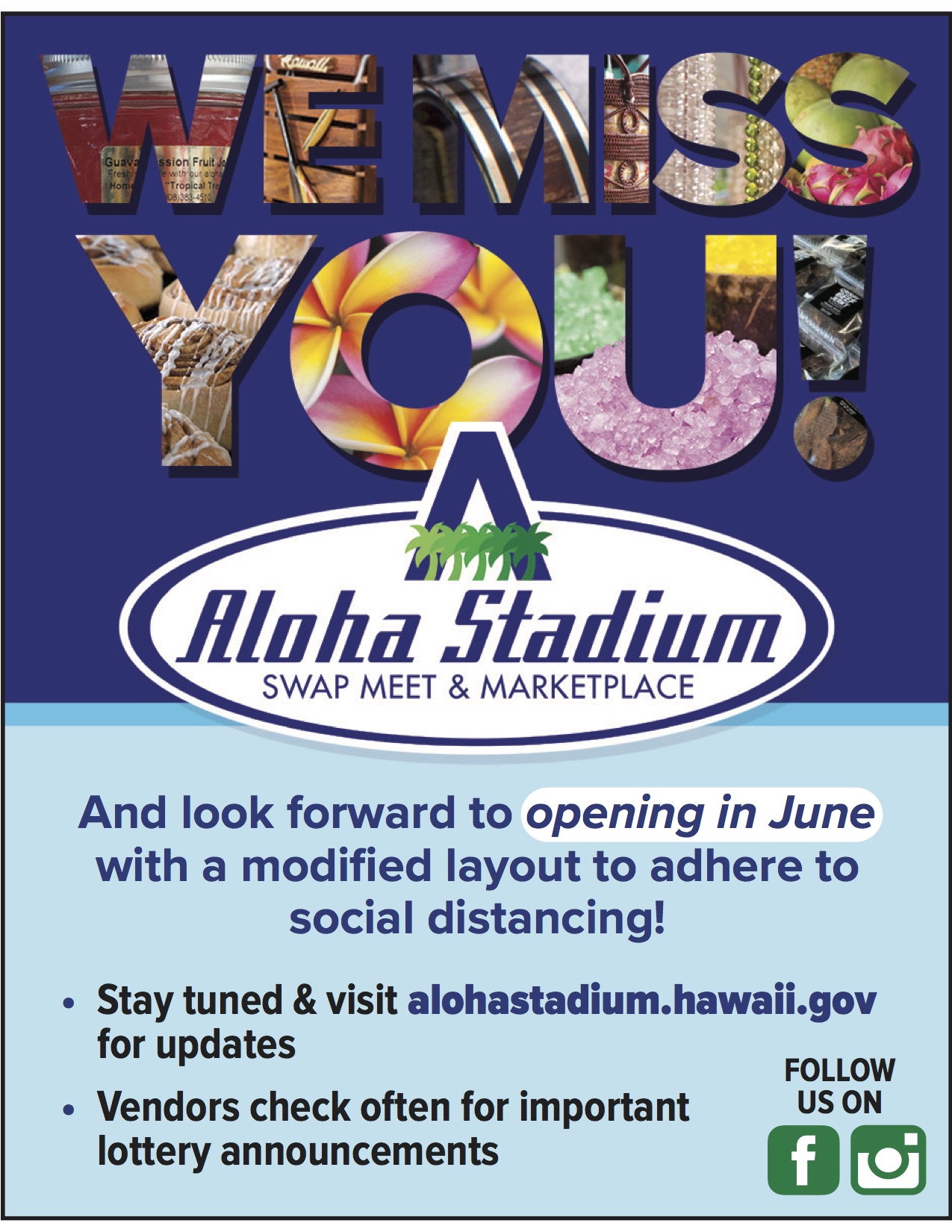 Just 20 minutes away from Waikiki, discover unique treasures at Hawaii's largest open air market where the locals shop for the best deals in town.
The Aloha Stadium Swap Meet & Marketplace is open three days a week, offering endless rows with hundreds of local merchants and artisans with the best value on imported merchandise, hand made items, eclectic art pieces, popular local snacks, and other made in Hawaii products. This is sure to be your one stop destination to find that special gift or souvenir for everyone on your list.
NOW OFFERING FREE FIELD PHOTO OPPORTUNITIES from the North End Zone (meet in the North Plaza C-Gear Shop; section V during swap meet days between 10:00am – 1:00pm)
*Take your own photos. Groups meet promptly every hour; 10am, 11am, 12pm & 1pm
Marketplace Hours: Wednesdays, Saturdays and Sundays from 8:00 a.m. to 3:00 p.m.
Swap Meet Hours: Wednesdays and Saturdays from 8:00 a.m. to 3:00 p.m., Sundays from 6:30 a.m. to 3:00 p.m.
Admission: $1.00 per buyer. Children 11 years and under are FREE.
**as a friendly reminder animals are not allowed at the stadium. 
WAIKIKI TROLLEY PURPLE LINE is now running!
For more information click here
ALOHA STADIUM SWAP MEET & MARKETPLACE VENDOR FAQ (as of May 13, 2020; 12:30am):
For more information contact Centerplate Office at 808 486.6704
Due to the Governor's Proclamation on social distancing, the Swap Meet & Marketplace will be reconfigured.
Once the Governor's lifts the social distancing order, original booths will be returned. During the modified configuration, if you do not wish to participate, your credits will be held until original stalls are given back. Official opening date and hours to follow.