ALOHA STADIUM LOOKS TO FILL OVER 150 POSITIONS FOR THE UPCOMING FOOTBALL SEASON
Posted on May 24, 2018 in Events, Featured, Main
Football season is just around the corner and Aloha Stadium is getting ready to welcome all the new and returning high school and university players, as well as Coach Rolovich and his staff. To prepare for the season, Aloha Stadium will be filling 150 part-time positions.  Applications for these part-time intermittent, "at will" positions are available now.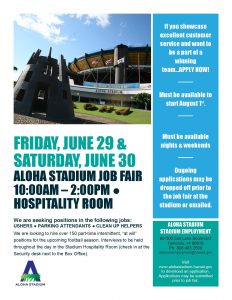 Current positions in high demand are Ushers and Parking Attendants. This is a great opportunity to earn additional income, whether you already work full-time or are retired.  Many of the positions are great for students too.  To be part of this winning team, candidates must be available beginning in August and are required to work all UH home games and the Hawaii Bowl.  There are also many other smaller events for those seeking additional hours.  Successful applicants must possess excellent customer service skills.
Click on the links below for job descriptions of current positions available:
CLICK HERE to fill out an application or  DOWNLOAD and print a copy.
*In order for your application to be considered, all questions must be filled out and completed.  
You may list more than one position on your application.  (For multiple positions, please list in the order of preference.) Please be sure to complete all questions on the application before submitting.
Applications are also available at the Aloha Stadium Office and may be mailed to:
Stadium Authority
Attn:  Personnel
P.O. Box 30666
Honolulu, HI 96820-0666
 For more information or questions contact stadiumemployment@hawaii.gov
---
If selected for part-time intermittent employment the following is a list of documents and/or information a "New Hire" will need to be submitted upon request.
1) Social Security card (card must be signed)
2) Picture Identification, examples of acceptable documents include but are not limited to:
a. Valid Drivers license
b. Valid State Identification
c. Valid U.S. Military Identification
d. U.S. Passport
3)  Child Labor Certificate (for minors under the age of 18)
4) Alien Registration Receipt Form I-151 (if you are a Permanent Resident Alien of the U.S.)
5) Beneficiary Information
a. Name of beneficiary
b. Address of beneficiary
c. Social Security Number of beneficiary