SHOW ALOHA LAND – A HOLIDAY WONDERLAND
November 19, 2021 @ 6:30 pm

-

January 1, 2022 @ 11:30 pm
SHOW ALOHA LAND – A HOLIDAY WONDERLAND
presented by MIRA Image Construction
RUNNING THROUGH JANUARY 1, 2022
The Show Aloha Land – A Holiday Wonderland, brought to you by MIRA Image Construction, is back and even more entertaining. This holiday light show is a great way to celebrate the season with family and friends! Get ready to drive through a dazzling display of a one million LED lights choreographed to holiday music at the Aloha Stadium.
The excitement begins on November 19th starting at 6:30 pm. To ensure you have a delightful experience, we're limiting the number of vehicles for each time slot.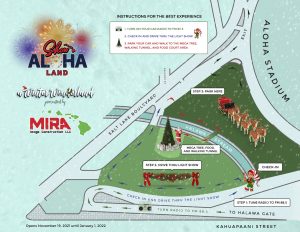 MEGA TREE FOOD COURT ATTRACTIONS
After the drive thru light show, please park in the upper Halawa lot and walk over the bridge through the newly added WALKING LIGHT TUNNEL to the Mega Tree area for even more family fun – who knows Santa may even show up.
Mahalo for celebrating the holidays with us and being a part of the Show Aloha Challeng
GATE ENTRANCE
Entrance to Show Aloha Land will be accessible ONLY from Kahuapaani Street, Gate 3. There will be volunteer staff to direct and assist you.
TICKETS PRICES: $55 per vehicle.
For event details and Tickets visit Show Aloha Challenge 
Ticket and event information:
WARNING: This show contains flashing lights and rapidly changing or alternating images which have the potential to trigger seizures for people with Photosensitive Epilepsy or other photo sensitivities as well as migraines or dizziness.
Ticket holders must present their confirmation email with the QR code, you may either print out the confirmation email or show it on your phone. For contactless ticketing you may show the code through the window. If you need to roll down the window please wear a face mask.
Tickets are only valid on specified date and time. Ticket holders must arrive no earlier than 15 minutes before their scheduled time.
If you arrive other than your scheduled time, you will be redirected to exit the event and asked to return at your scheduled time.
Event is rain or (moon) shine. No refunds or exchanges.
For trucks, in order to ride in the back bed – all seats inside must be occupied. Passenger must be over the age of 12 and all passengers need to follow all driving laws.
Please abide by all applicable driving laws, and drive safely.
(1) Ticket will allow (1) vehicle entrance. No commercial vehicles, motorcycles, or mopeds! You will be asked to leave and no refunds will be given.
To hear the music that the show is synchronized to you will need to tune your car radio to the FM station noted when driving in.
It takes approximately 15-20 minutes to drive through the light show. Please no stopping.
There are emergency exits throughout the show in case of emergency.
All occupants of vehicles must remain in their vehicles while driving through the light show, no exceptions!!!
Pictures are allowed and encouraged; the driver must refrain from taking pictures in order to operate their vehicle safely.
To adhere to the Covid-19 guidelines and to help keep everyone safe you are to remain in your vehicle at all times and wear a face mask when interacting with staff. You may only exit your vehicle to use the portable toilets but must wear a face covering and keep 6 feet away from others.
All proceeds will benefit the S.A.C. Foundation (Show Aloha Challenge)
ENJOY and be SAFE! HAPPY HOLIDAYS FROM SAC FOUNDATION!
NO REFUNDS OR EXCHANGES. YOU ASSUME ALL RISK AND DANGER INCIDENTAL TO THE EVENT WHETHER OCCURRING PRIOR TO, DURING, OR AFTER SAID EVENT. YOU ASSUME ALL RISK AND DANGER AND YOU AGREE THAT THE MANAGEMENT, ITS AGENTS, AND THE STAFF ARE NOT RESPONSIBLE OR LIABLE FOR ANY INJURIES RESULTING FROM SUCH CAUSES. NO ALCOHOL, DRUGS, OR WEAPONS ALLOWED. YOU FURTHER CONSENT TO THE USE OF YOUR IMAGE OR LIKENESS INCIDENTAL TO ANY DISPLAY, TRANSMISSION, OR REPRODUCTION OF THE EVENT. MANAGEMENT RESERVES THE RIGHT TO REFUSE ADMISSION OR EJECT ANY PERSON WHOSE CONDUCT IS DEEMED BY MANAGEMENT TO BE DISORDERLY OR WHO FAILS TO COMPLY WITH THE TERMS AND CONDITIONS HEREIN.