Aloha Stadium Tailgate Policy
The DO's and DON'Ts of tailgating at Aloha Stadium.
The TAILGATE POLICY is in place for the safety and enjoyment of ALL guests attending an event at the Aloha Stadium.
*Tailgate policy is in effect for all University of Hawaii games, Hawaii Bowl, and all Professional Sporting Events.
*NO Tailgating is allowed during any other Stadium events unless noted.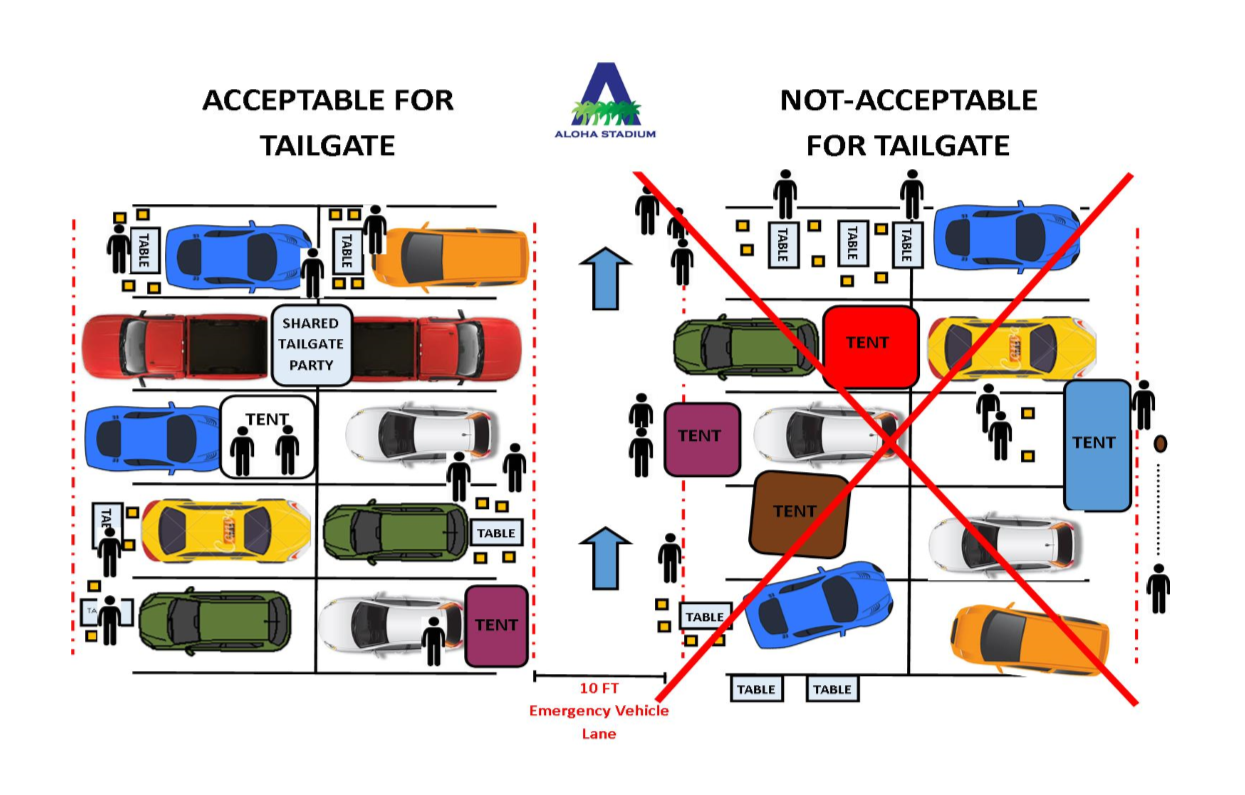 The Following is PROHIBITED in all parking areas: 
RESERVING STALLS. Parking is on a first-come, first serve basis. Please arrange for vehicles who would like adjacent stalls for tailgating to enter the parking lot at the same time.
UTILIZING MORE THAN ONE STALL. Vehicles, tables, chairs, BBQ pits and tents must be confined to only one stall. No pegging.
DUMPING. Please make sure hot coals are not dumped in the parking lot or trash receptacles.
RECREATIONAL PLAY. No tossing of footballs, frisbees or any other type of objects. No bikes, scooters, rollerblades, and skateboards. No remote-control devices allowed on property.
ANIMALS. No animals are allowed at the Aloha Stadium, except for ADA-Compliant Service Animals.
LIVE BANDS/LOUD MUSIC.
NO LOITERING.
NO TAILGATING after the start of event and curfew is one hour after game.
ADVERTISING. Soliciting, hawking, literature, selling and giveaways of any kind are prohibited without prior approval from the Aloha Stadium Management.
HIGH CAPACITY ALCOHOLIC BEVERAGE CONTAINERS (ie. kegs, party balls, etc.) -these items will be confiscated and may be disposed. Must be 21 years or older to posses and consume alcohol. *It is unlawful for any adult to provide or purchase alcohol for consumption by minors under the age of 21.
MOTORIZED REMOTE-CONTROLLED DEVICES.
Please Be Advised: Aloha Stadium management would like to accommodate as many  customers as reasonably possible in the stadium parking areas. To assist in this effort, we request that you adhere to the Aloha Stadium Guest Code of Conduct, parking, tailgating and other established policies. Aloha Stadium management also requests you refrain from reserving parking stalls/spaces, straddling/occupying adjoining stalls, and failing to park within a designated parking stall, or bringing any prohibited items onto the Aloha Stadium in accordance with these policies. Law enforcement and security officers will be patrolling the parking areas to ensure that these policies are followed. Violations of Aloha Stadium policies may result in fines of up to $150.00. HRS 109-(7). IF YOU SEE SOMETHING, SAY SOMETHING… Text "ALOHA" to 78247 to report activity and location or you may call the Stadium Security Hotline at 483-2807.