2019 UH Football Express Shuttle Service
ROBERTS HAWAII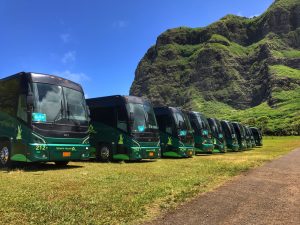 Convenient, Fast & Friendly- Your best way to the game!
Locally owned and operated by your fellow Rainbow Warrior Fans. Your best way to the game!
Let's show our support for our Rainbow Warriors in the Mountain West Conference against some of the Western United States best football programs. Leave the traffic and gas problems to us. The UH Football Express shuttle service to Aloha Stadium gets you there and back with convenient pick-up locations across the island! Pick-ups are available at Honolulu, Hawaii Kai, and Kahala.
Reservations are required and may be made online at www.robertshawaii.com or call 808-954-8625
PRICES
$20 – per person for one (1) game round trip
PICK-UP and DROP-OFF Locations
Please be at the pick-up locations 15 minutes prior to the stated departure time. All shuttles depart the stadium immediatel after the game ends. Visit the website for exact times.
HAWAII KAI – Park 'n' Ride
HONOLULU – Mahukona Street
KAHALA – Kahala Mall, Curbside Bank of Hawaii
There is a waitlist for the following locations: Kailua, Kaneohe, and Mililani. Please call in to be put on the waitlist. (808) 539-9400 If we receive enough guests requesting a location, we will pick-up and drop-off at the additional location.