2017 UH Ticket Information
Individual Game Ticket Pricing
Non-Alcohol 'Family Zone' Sections Continue At UH Home Football Games UH will continue to designate Sections V & V V in the orange level of the North end zone in Aloha Stadium as "Family Zone" non-alcohol sections during Rainbow Warrior football games. Fans sitting in those sections will not be permitted to consume alcohol before or during the game. Fans interested in seats in the "Family Zone" can purchase them by calling 944-BOWS (2697) or by visiting the Stan Sheriff Center or Aloha Stadium box offices.
2017 UH Football Price Seating Map
HOME GAMES
*click here for printable 2017 UH FOOTBALL Individual Prices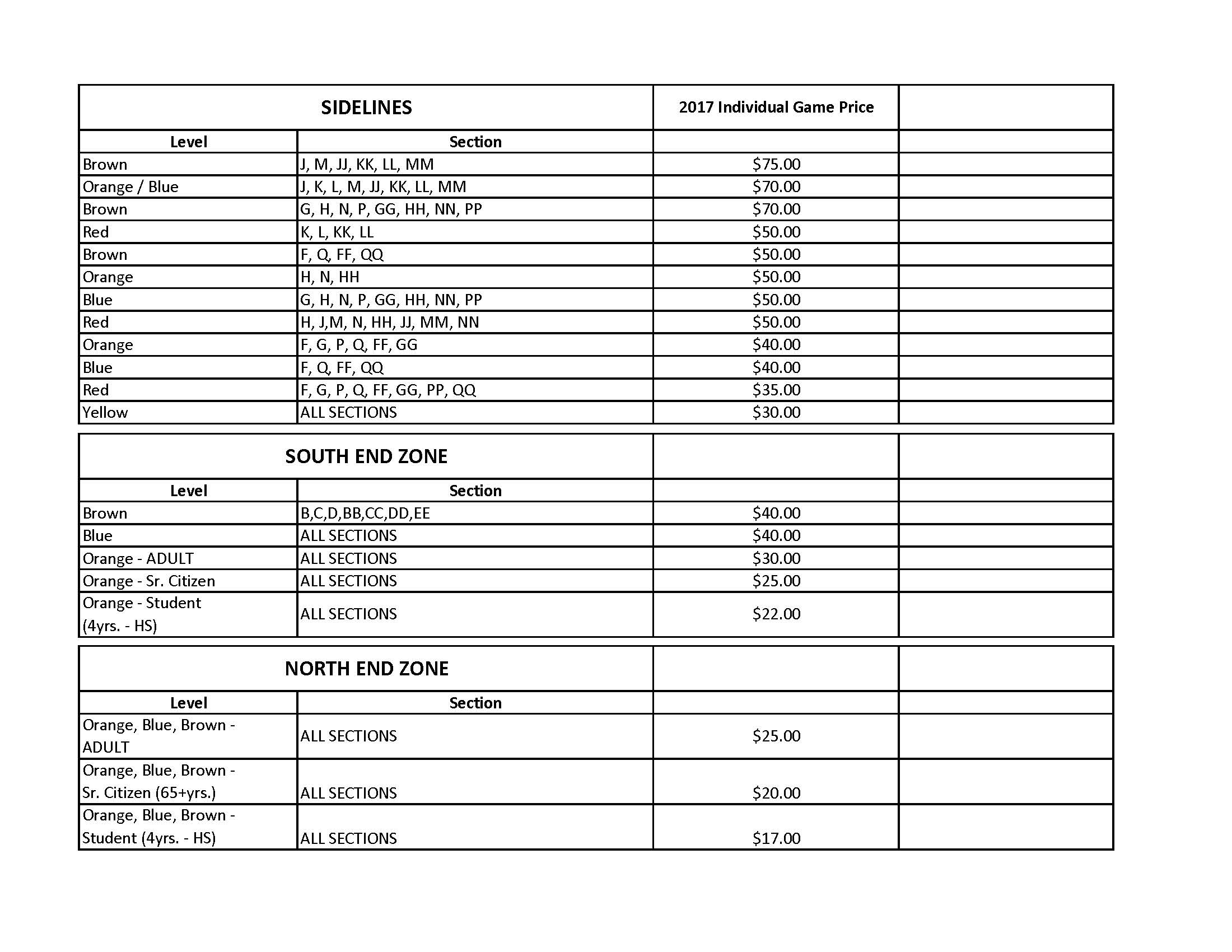 All tickets will be subject to the current price at the time of order. All sales are final. Buying tickets early guarantees the best seats available.
Regular box office hours: 9 a.m. to 5 p.m. Monday to Friday.
Closed Saturday, Sunday and holidays.
Only Cash, Mastercard and Visa credit cards accepted. No user fee.
Stadium Charge Line Ph. (808) 483-7123
Open 9 a.m. to 5 p.m. Mon. to Fri. Closed Sat., Sun., holidays and day of event. Only Mastercard and Visa credit cards accepted. User fee of $3 or $4 per ticket.
How to Purchase:
University of Hawaii Ticket Office
Phone Sales Line:(808) 944-2697
Monday-Friday 9:00am – 5:00 pm

Fax: (808) 956-3403
Address: University of Hawai'i Honolulu, HI

Stadium Box Office:
Phone Charge Line: (808) 483-7123
Information: (808) 486-9300
Outer Islands and US Mainland (toll free): 1-(800) 291-3999
Business Hours: 9:00 am – 5:00 pm
Monday thru Friday
All information above, subject to change without notice.