STADIUM AUTHORITY DONATES $150,000 TO UH ATHLETICS
Posted on Oct 12, 2015 in UH Corner
Aiea, HAWAII (October 10, 2015) – The Aloha Stadium Authority made a $150,000 donation to the University of Hawaii Athletics Department. Stadium Authority Board Chairman Charles Toguchi and Stadium Manager Scott Chan made the official presentation during tonight's Rainbow Warrior Homecoming football game against San Diego State.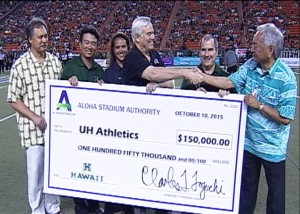 "We are able to make this donation on behalf of the Stadium Authority through our advertising agreement for the naming rights to the field," Chan said. "It is our way of supporting the UH Athletics and building our partnership with David and the program as a whole."
The money will be used towards assisting UH student-athletes.
"We are grateful for this generous donation from the Aloha Stadium Authority,"  Matlin said. "This helps us enhance the overall experience for our student-athletes, and we look forward to building our ongoing partnership with Aloha Stadium for many years to come."
For more information on all upcoming games, you can now download the Aloha Stadium iphone/Android app, call the Aloha Stadium at (808) 483-2500 or email Samantha Spain atSamantha.L.Spain@hawaii.gov.
Located in Central Oahu, the Aloha Stadium is Hawaii's largest outdoor arena, home to the University of Hawaii Warriors football team and the annual NFL Pro Bowl game. In addition, the Aloha Stadium hosts a multitude of events attracting visitors from around the State including soccer matches, concerts, car shows, fairs and the ever popular Aloha Stadium Swap Meet & Marketplace. Visit www.alohastadium.hawaii.gov for more information.
###