Trunk & Treat Drive-Thru Halloween Trick or Treating
October 31 @ 5:00 pm

-

10:00 pm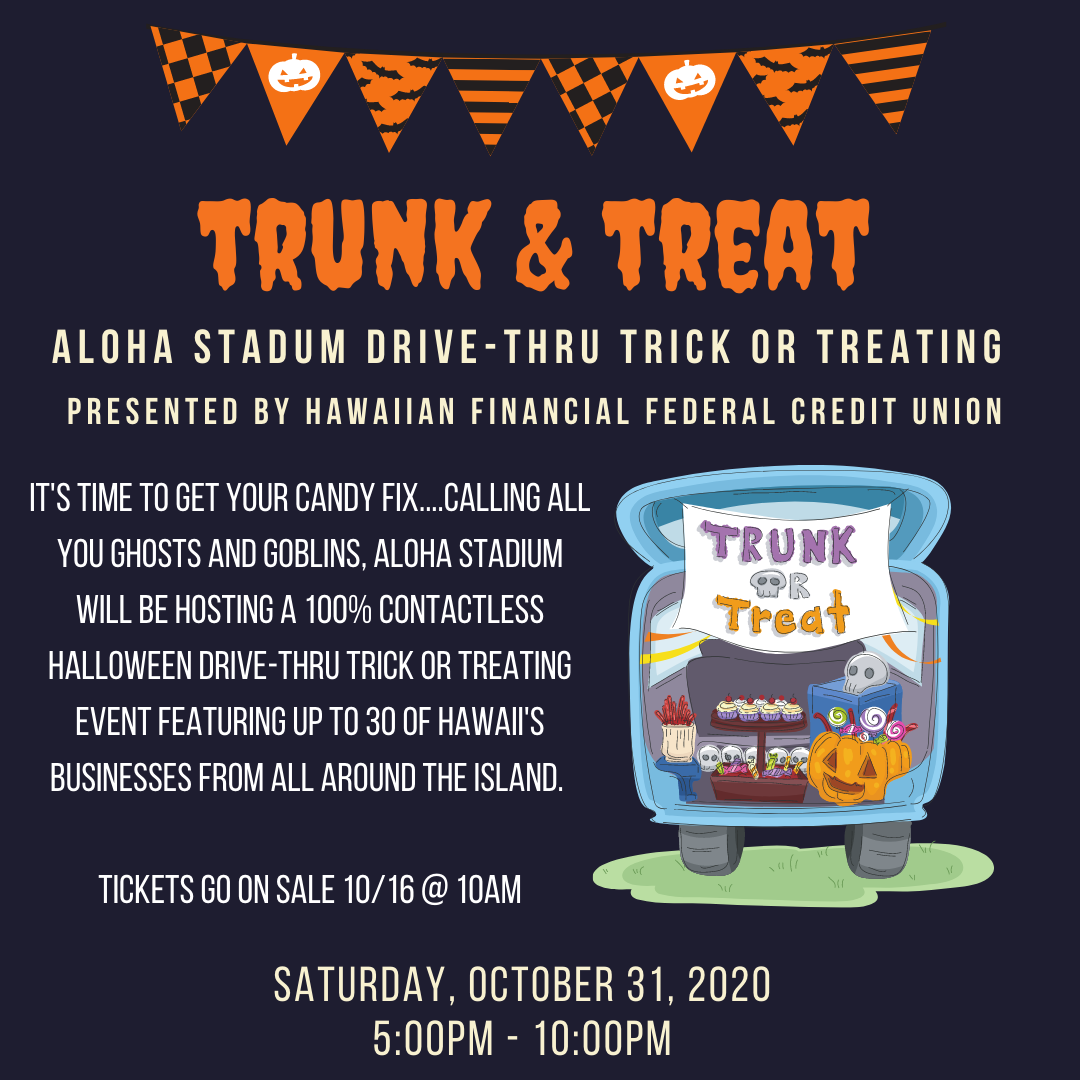 TRUNK & TREAT DRIVE-THRU
TRICK OR TREATING
presented by Hawaiian Financial Federal Credit Union
SATURDAY, OCTOBER 31
5:00pm – 10:00pm
EVENT IS NOW SOLD OUT
It's time to get your candy fix….Calling all you ghosts and goblins, Aloha Stadium will be hosting a 100% contactless Halloween drive-thru trick or treating event featuring up to 30 of Hawaii's businesses from all around the island.
Ticket Fee: SOLD OUT
Any interested businesses please contact Samantha.L.Spain@hawaii.gov for details.
Event Entrance:
Public entry will be at Lower Halawa Parking Gate #3 (across of Ice Palace)
Please arrive at the designated time printed on your ticket.
Please be patient and expect delays
Scanning of event tickets will be done through the driver's glass window or windshield.
Mahalo to all our sponsors!
Event Guest FAQs:
ALL SALES FINAL. No refunds or exchanges. Anyone who is sick or with COVID-19 symptoms cannot attend the event. Maximum of (5) five tickets per transaction, per vehicle will be allowed.
Vehicle must have no more than 5 occupants.
Vehicle check-in will be at parking section 9A. A placard will be placed on the windshield after check-in.
All windows must be rolled up.
No one will be allowed to sit in the bed of a truck.
No large vehicles (mini vans are okay) to include buses and limousines will be allowed.
Face coverings will be required while in the car for ages 5 and older.
Please make sure your trunk is clear to accommodate treats.
No consumption of alcohol will be allowed.
All passengers must remain in the vehicle at all times unless restroom use is necessary. Temperature checks will be done if restroom use is necessary.
A stadium staff member will ask the driver to unlock the trunk of the vehicle at check-in and allow a staff member to open the trunk. The trunk of the vehicle will remain open while driving in the distribution area. The last sponsor in the distribution area will close the trunk of the vehicle and remove the placard.
Speed limit in the distribution area will be no more than 5 miles per hour. Please drive responsibly and expect to stop frequently.
Please call the Aloha Stadium Hotline (808-483-2829) on the day of the event if you have any questions or need assistance during your visit.
All event updates or cancelations notices due to unforeseen circumstances will be posted.
An at home printable ticket should be treated like any other valuable or cash. Unauthorized duplication or tampering with a barcode may prevent admission into the event. The original ticket purchaser is solely responsible for preventing the duplication of this ticket. If tickets are found to be duplicated or tampered with, the ticket will be seized and cancelled without compensation.
Your ticket is a revocable license and may be taken up and admission refused for violating venue rules, illegal activity, misconduct or failure to comply with any and all security measures.
It is understood that the license granted by this ticket is for the purpose of viewing the event (exhibition, display, game or affair) only as an eyewitness. This ticket if lost, stolen or destroyed will not be replaced or refunded
The Stadium Authority reserves the right to move the vehicles on this lot at any time. We assume no liability for theft, vandalism, collision, accidents, fire or damage of any kind to vehicles from any cause whatsoever.