PURE KANA Hawaiian Supercross – RESCHEDULED SATURDAY, AUGUST 1, 2020
August 1 @ 4:00 pm

-

10:00 pm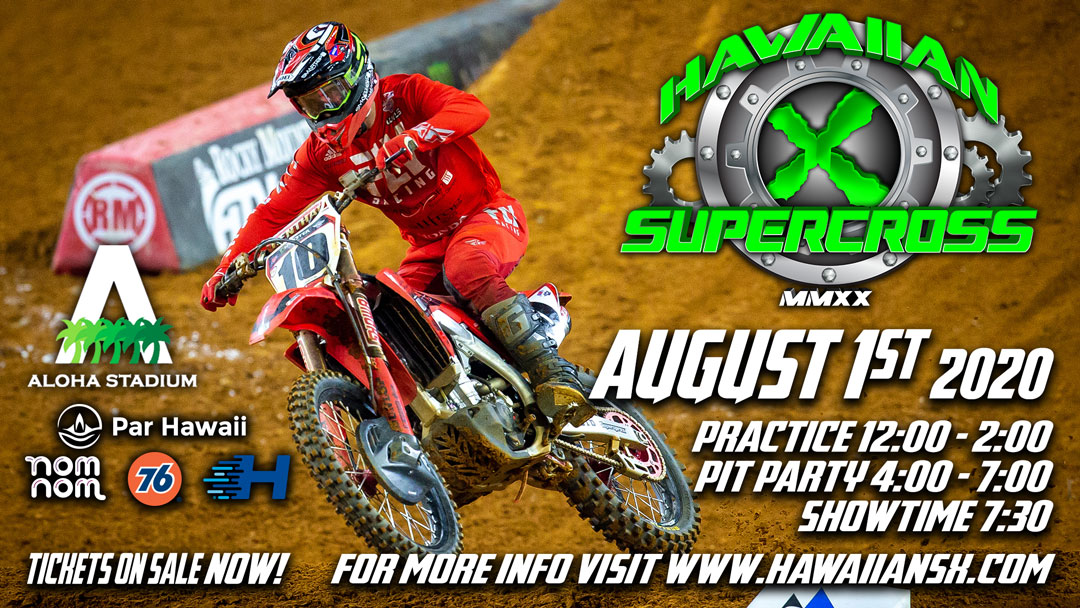 PURE KANA Hawaiian Supercross
Saturday, August 1, 2020
Pit Party 4:00pm. Show 7:30pm
In light of the recent events and in efforts to protect our communities, supporters and fans The First Hawaiian Bank Monster X Tour World Finals and The Hawaiian Supercross are rescheduled.  Tickets are still available for purchase for these events.
"Our #1 responsibility is safety. This holds true not only on the floor of our performances for our Drivers and Crew, but for our fans in attendance. Monster X Tour is a Family event and we take that responsibility to heart. Taking these extra steps now, is the only choice." – Monster X Tour.
For up-to-date information go to monsterxtour.com, hawaiiansx.com, and follow us on Facebook, Twitter and Instagram.
The latest information may be found at www.MonsterXTour.com, www.HawaiianSX.com
FOR MORE INFORMATION ON THIS EVENT:
Contact: Jennifer Davis
Email: Jennifer@MonsterXTour.com
Phone: 480-773-6822 ext. 1
www.MonsterXTour.com
This prestigious event will feature riders from around the globe all gathering at the Aloha Stadium in Honolulu, Oʻahu. Just one week after the highly anticipated 2020 Monster X Tour World Finals event, the Aloha Stadium will once again be transformed into a world class Supercross track.
Supercross
Saturday, August 1st @ 7:30 pm
Pit Party: 4:00 pm – 7:00 pm
May 9th tickets will be automatically valid for Saturday, August 1st
Stadium Box Office will not open to the public until June 1st.   For questions please call 808-486-9300. Tickets are currently available online through Ticketmaster.com.
2019 Hawaiian Supercross Champion Ryan Snipes is planning to return (based on scheduling) to defend his Championship against Hawaiian Supercross Runner-Up and Defending Australian Champion, Justin Brayton and an entire field of world class riders for the 2020 PURE KANA Hawaiian Supercross!
A complete Rider list will be announced very soon. The pit party starts at 4:00 pm with the night show kicking off at 7:30 pm. Spectators will be given a full night of bar-banging, pulse-pounding action. In addition, we'll be featuring Freestyle Motocross; including Kassie Boone, one of only two female FMX Riders in the World, doing tons of tricks including backflips throughout the evening.
TICKET INFORMATION:
SUPERCROSS MAP LAYOUT
Box Office: Monday – Friday, 9:00am – 5:00pm, Closed Saturday/Sundays and Holidays
Online: Ticketmaster.com
Phone: 1-800-745-3000.
Advance Kids Tickets start at JUST at $22!! Group and Military discounts apply.
Tickets are subject to a service charge. Fees may be applied
– Children under 2 are free.
– Ticket prices go up Day of Show.

The latest information may be found at www.HawaiianSuperCross.com
FOR MORE INFORMATION OR FOR YOUR BUSINESS TO BE APART OF THIS EVENT:
Contact: Info@HawaiianSX.com