GUNS N' ROSES LARGER-THAN-LIFE NOT IN THIS LIFETIME TOUR
December 8 @ 5:00 pm

-

11:00 pm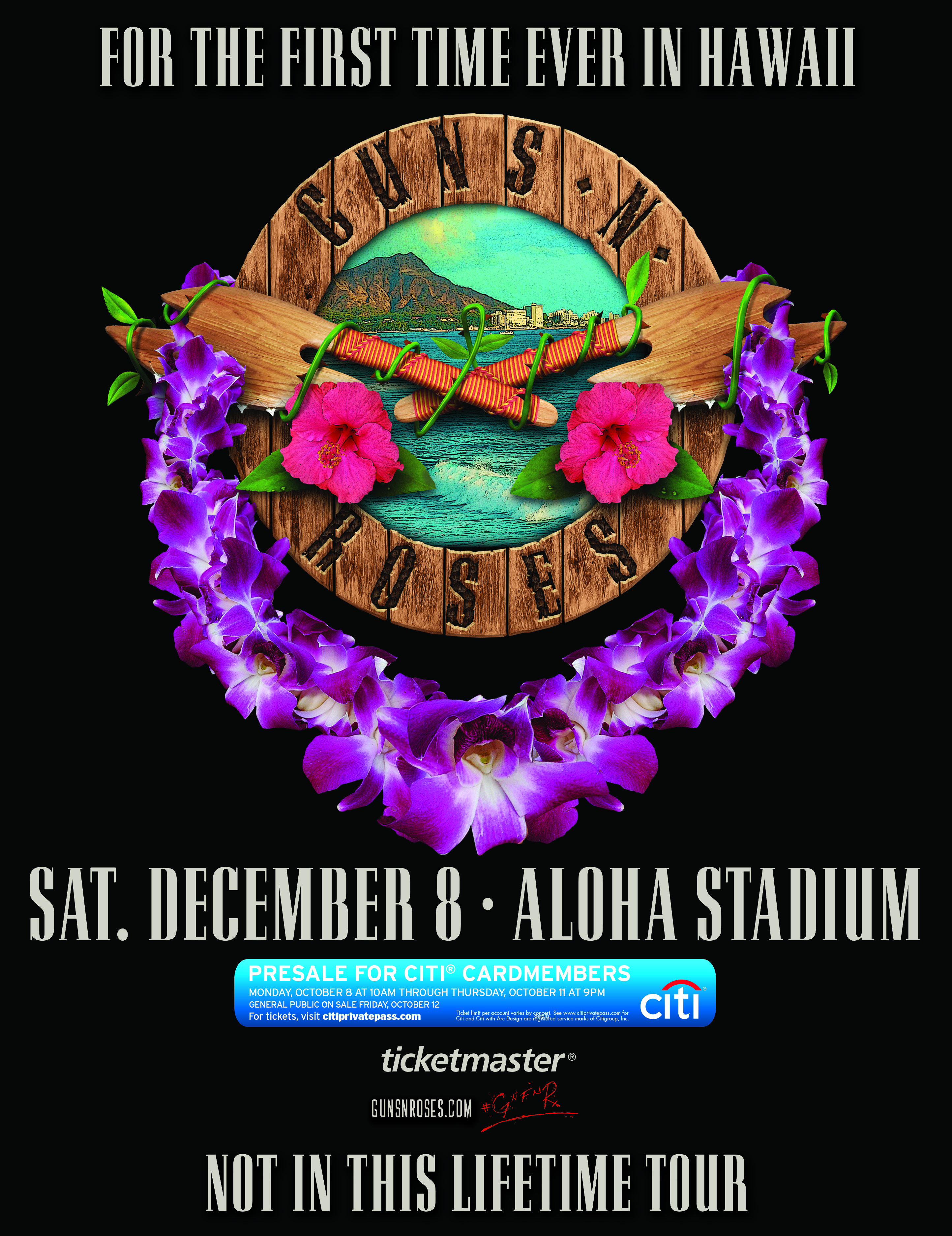 GUNS N' ROSES ANNOUNCE FIRST EVER HAWAII SHOW IN THE BAND'S HISTORY AS PART OF LARGER-THAN-LIFE
NOT IN THIS LIFETIME TOUR
ROCK LEGENDS HAVE NEVER BEEN HOTTER ON THE ENORMOUSLY SUCCESSFUL WORLDWIDE RUN
 – Tickets On Sale To General Public Starting Friday, October 12th at LiveNation.com –
 – Citi Presale Begins Monday, October 8th –
Guns N' Roses and their outrageously successful Not In This Lifetime Tour have dominated the globe and are continuing the incredible whirlwind by announcing their first show ever in the state of Hawaii. The Southern California rock band will bring one of the most ambitious tours in rock & roll to the paradise city of Honolulu, playing for thousands of fans at Aloha Stadium on Saturday, December 8th. The historic show will be a can't miss event for fans all across the Hawaiian islands and the entire west coast of the USA. Tickets are on sale to the general public starting Friday, October 12th at 10:00am HST at Ticketmaster.com and at the Aloha Stadium box office.
Citi is the official presale credit card of the Not In This Lifetime Tour. As such, Citi cardmembers will have access to purchase presale tickets beginning Monday, October 8th at 10:00am HST until Thursday, October 11th at 9:00pm HST through Citi's Private Pass program. For complete presale details visit www.citiprivatepass.com.
Since kicking off the behemoth Not In This Lifetime Tour in 2016, the surly rulers of rock have brought the exhilarating phenomenon of a show to stadiums, arenas, and festivals around the world including North America, Europe, Asia, South Africa, Mexico, and more. It has become one of the highest grossing and most successful tours of all time. This year alone, the band has performed at 14 stadiums as part of the run and five summer festival headlining slots across Europe. In 2017, the first European leg of the Not In This Lifetime Tour sold over 1 million tickets becoming the year's most successful tour, once again reaffirming the insatiable appetite for rock & roll. Produced and promoted by Live Nation, eager fans around the world have turned out in droves to hear the power of Axl Rose's lethal vocals, searing guitar riffs from Slash, and Duff's signature moody bass lines.
Following the group's 1985 formation, Guns N' Roses injected unbridled, unrivalled, and unstoppable attitude into the burgeoning Los Angeles rock scene. The spirit went on to captivate the entire world with the release of their 1987 debut Appetite for Destruction –the best-selling U.S. debut ever, moving 30 million copies globally.  In 1991, the seven-time platinum Use Your Illusion I and Use Your Illusion II occupied the top two spots of the Billboard Top 200 upon release. Over the course of the past decade,
Guns N' Roses have performed sold out shows and headlined festivals worldwide following the critically acclaimed release of 2008's RIAA platinum-certified Chinese Democracy. Six studio albums later, Guns N' Roses are one of the most important and influential acts in music history and continue to set the benchmark for live performances connecting with millions of fans across the globe. Guns N' Roses' are Axel Rose (vocals, piano), Duff McKagan (bass), Slash (lead guitar), Dizzy Reed (keyboard), Richard Fortus (rhythm guitar), Frank Ferrer (drums), and Melissa Reese (keyboard).
Ticket information available at Ticketmaster.
Upcoming Guns N' Roses Not In This Lifetime Tour Dates:
| | | |
| --- | --- | --- |
| Saturday, November 3 | Monterrey, MX | Mother of all Festivals (Parque Fundidora) |
| Thursday, November 8 | Jakarta, ID | GBK Stadium, |
| Sunday, November 11 | Manila, PH | Philippine Arena |
| Wednesday, November 14 | Kuala Lumpur, MY | Surf Beach, Sunway Lagoon |
| Saturday, November 17 | Taipei, TW | Taoyuan International Baseball |
| Tuesday, November 20 | Hong Kong, HK | Asia World Expo Arena |
| Wednesday, November 21 | Hong Kong, HK | Asia World Expo Arena |
| Sunday, November 25 | Abu Dhabi, AE | Du Arena |
| Thursday, November 29 | FNB Stadium | Johannesburg, ZA |
| Saturday, December 8 | Honolulu, HI | Aloha Stadium |
For more information visit www.gunsnroses.com
#GnFnR
 TICKET SALE INFORMATION: FRIDAY, OCTOBER 12, 2018
TO PURCHASE TICKETS, PLEASE READ THE FOLLOWING INSTRUCTIONS
CAMPING OUT IS STRICTLY PROHIBITED.
Random numbered tickets will be issued beginning at 8:30 am and will be distributed until
9:00 am. The drawing will begin at approximately 9:15 am. Anyone arriving after 9:00 am will be placed in line in the order that they arrive and will not be included in the lottery.
ONE (1) random number per customer. Anyone found in possession of more than one ticket per lottery will be placed at the end of the line. Please hold your own ticket.
Tickets are non-transferable. Please do not give your ticket to anyone else.
You must be at least 12 years old AND be able to complete a transaction on your own, without a parent, to receive a random number (i.e. a child could not sign for a parent's credit card so they would have to pay cash).
A RANDOM NUMBER DOES NOT GUARANTEE YOU A TICKET, ONLY A PLACE IN LINE.
Your random number will only be honored at the Aloha Stadium Box Office.
Each position in line will be determined by lottery.  People will line up in the exact order that the numbers are called.
Each number will be called three times only.  If there is no response after the third call, a new number will be called and the previous number will be void.
There is a eight (8) ticket maximum per transaction.
Tickets are sold on a best available basis only. You cannot pick specific sections, rows, or seats. Please tell the ticket seller the number of tickets you need and the price level and they will pull the best available seats.
If you require accessible seating, please make your request before completing your ticket purchase. Limit of up to 3 companion tickets per accessible seat purchased per transaction.
Please have your method of payment ready when you approach the window. One payment method per transaction (you cannot pay part cash and part credit card or use multiple credit cards).
We reserve the right to refuse service to anyone who does not abide by the policies listed above.
PAYMENT METHODS: MASTERCARD, VISA, (with photo ID), and CASH.   WE DO NOT ACCEPT CHECKS.
(Please note that the Citi Pre-Sale is through Ticketmaster only.  Aloha Stadium does not accept American Express).
PLEASE DO NOT ARRIVE AT THE STADIUM ANY EARLIER THAN THE TIME SPECIFIED FOR DISTRIBUTION OF THE RANDOM NUMBERS. THERE IS NO ADVANTAGE IN EARLY ARRIVAL, AS YOUR PLACE IN LINE WILL BE DETERMINED BY THE LOTTERY PROCESS.
THANK YOU FOR YOUR COOPERATION!!!
FAQs – CONCERT Event 
Will weather be a factor?
A. All concerts are held rain or shine. Please be aware that umbrellas are not allowed inside the stadium. Visit our prohibited items for details. 
What is meant by "all ages" event?  Can I bring my baby without a ticket?
 A. Everyone that enters the stadium is required to have a ticket – including children of any age.
Will there be portables and food sold on the field?
A. Currently the plan is to have portables and food sales in the Bridge Storage Areas adjacent to south end zone. 
Will tailgating be allowed?
 A. No.  Tailgating will not be allowed for this event. 
What is the fee for parking?
 A. Parking is $16 per vehicle; $31 for bus or limousine. Cash Only.
What time will Parking Gates open for the concert?
 A. Parking gates will be announced shortly.
Is anyone allowed in the parking lot for the concert?
 A. Because of the sold out shows, and limited parking, only cars that have concert tickets will be allowed in the gates. Cars that are not able to provide concert tickets will be turned away.
What time will Turnstile Gates open for the concert?
 A.  All turnstiles opening will be announced shortly.
Are there any bag restrictions?
 A. Each person shall be allowed one bag that does not exceed 12" x 6" x 12" in size.
In addition, each person will be allowed to hand-carry a blanket, poncho or jacket, along with a soft-sided seat cushion. Exceptions will only be made for medically necessary items, after proper inspection. Strollers must be collapsible and fit underneath the seat. Non-approved bags must be returned to vehicle or discarded.
The following items are PROHIBITED from entering the Aloha Stadium turnstiles:
Weapons; Noise Makers; Illegal Drugs; Cans & Bottles; Umbrellas; Coolers; Fireworks; Outside Food & Beverages (Snack Leis permissible, but must be pre-made with each item measuring no larger than 4" x 4" x 2", and no liquids); Inflatable objects of any kind; Confetti; Balloons; Lasers; Poles & Sticks; Skateboards; rollerblades; Bicycles; Animals (except ADA-Compliant Service Animals); motorized remote controlled devices (including drones); or any items which may pose a health or safety issue to our guests and employees. All bags, jackets, guests and vehicles are subject to search upon entering the premises.
What are the payment types accepted?
  A. The Aloha Stadium recommends bringing cash. Parking, and several concessions are cash only. There will be limited number of ATMs available and guests should expect long lines.
Will Swap Meet be open on concert day?
A. Yes there will be a modified swap meet in sections 8-14 from 8:00am – 1:30pm
*Parking lot will be cleared after swap meet closes. Any cars remaining will be towed prior to gates reopening.
***ALOHA STADIUM WILL NOT BE RESPONSIBLE FOR LOST OR STOLEN ITEMS