EAGLES 2018 NORTH AMERICAN TOUR
December 7 @ 5:00 pm

-

10:00 pm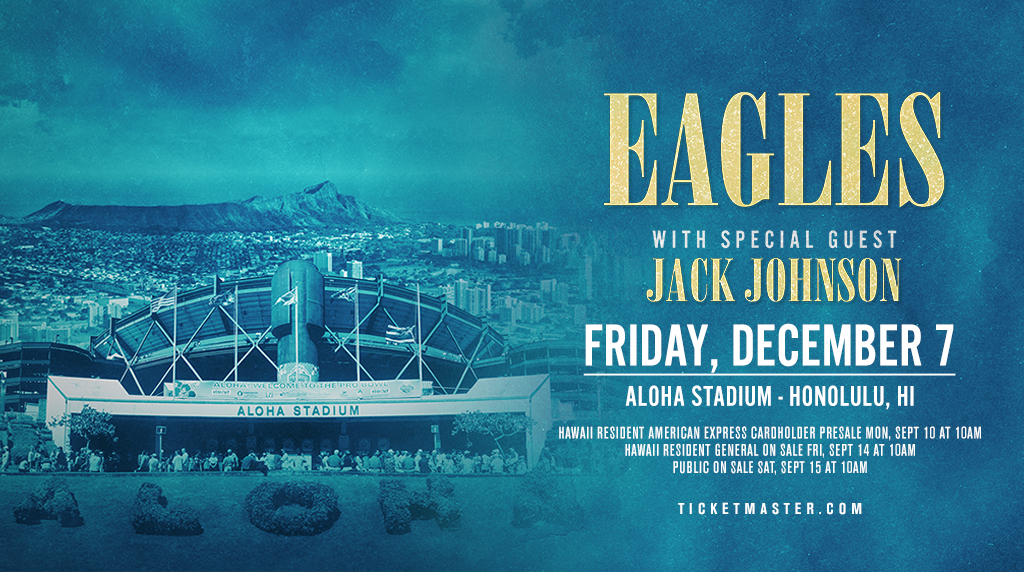 EAGLES
2018 NORTH AMERICAN TOUR COMING TO ALOHA STADIUM
FRIDAY, DECEMBER 7, 2018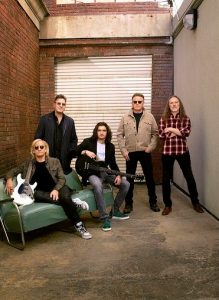 with special guest JACK JOHNSON
Tickets on Sale Friday, September 14th @ 10:00AM HST
The Eagles – Don Henley, Joe Walsh and Timothy B. Schmit, with Vince Gill and Deacon Frey – are bringing their critically acclaimed 2018 North American Tour to Aloha Stadium on Friday, December 7th, marking the band's first performance in Honolulu in nearly 14 years. The concert will also feature Hawaii's own Jack Johnson. Doors will open at 5PM and the concert will begin at 7PM.
Tickets go on sale via Ticketmaster, and at the Aloha Stadium Box Office, to credit card holders with Hawaii billing zip codes beginning Friday, September 14th at 10 AM. Tickets go on sale without any zip code restrictions beginning Saturday, September 15th at 10:00 AM.
American Express® Hawaii resident Card Members can purchase tickets before the general public beginning Monday, Sept. 10th at 10AM local time through Tuesday, Sept. 11th at 9:59AM local time and all American Express® Card Members can purchase tickets before the general public beginning Tuesday, Sept. 11th at 10AM local time through Thursday, Sept. 13th at 9PM local time.
A limited number of LaneOne VIP Packages will also be available, including great seats, transportation, preferred entrance and more.
For complete information, visit Eagles.com.
Jack Johnson grew up surfing and playing guitar in Hawaii. Since 2001, he has released 7 studio albums and 2 live albums that have sold over 25 million copies worldwide. His Brushfire Records label and touring crew have been leaders in the greening of the music industry and his All At Once social action network connects fans with local non-profits at each headline tour stop. Jack, with his wife Kim, founded the Kokua Hawaii Foundation to support environmental education in Hawaii's schools and communities, as well as the Johnson Ohana Foundation to support environmental, art and music education worldwide.
In today's faddish, fractured, rock landscape, the Eagles retain an appeal that transcends both generation and genre, cementing the band's role as enduring musical icons. As the best-selling American band of the '70s, and one of the top-selling acts of all time, the Eagles have sold more than 150 million albums worldwide, scored six #1 albums and topped the singles charts five times. They have won six GRAMMY® Awards, were inducted into the Rock & Roll Hall of Fame in 1998, in their first year of eligibility, and received the Kennedy Center Honors in 2016. The RIAA recently certified Their Greatest Hits 1971-1977 as the best-selling album in history (38-times Platinum) and Hotel California as the third best-selling album (26-times Platinum).
TICKET SALE INFORMATION: FRIDAY, SEPTEMBER 14, 2018
TO PURCHASE TICKETS, PLEASE READ THE FOLLOWING INSTRUCTIONS
CAMPING OUT IS STRICTLY PROHIBITED.
Random numbered tickets will be issued beginning at 8:30 am and will be distributed until
9:15 am. The drawing will begin at approximately 9:30 am. Anyone arriving after 9:15am will be placed in line in the order that they arrive and will not be included in the lottery.
ONE (1) random number per customer. Anyone found in possession of more than one ticket per lottery will be placed at the end of the line. Please hold your own ticket.
Tickets are non-transferable. Please do not give your ticket to anyone else.
You must be at least 12 years old AND be able to complete a transaction on your own, without a parent, to receive a random number (i.e. a child could not sign for a parent's credit card so they would have to pay cash).
A RANDOM NUMBER DOES NOT GUARANTEE YOU A TICKET, ONLY A PLACE IN LINE.
Your random number will only be honored at the Aloha Stadium Box Office.
Each position in line will be determined by lottery.  People will line up in the exact order that the numbers are called.
Each number will be called three times only.  If there is no response after the third call, a new number will be called and the previous number will be void.
There is a four (4) ticket maximum per transaction.
This concert has age restrictions.  Children must be 5 years of age or older to attend.
Tickets are sold on a best available basis only. You cannot pick specific sections, rows, or seats. Please tell the ticket seller the number of tickets you need and the price level and they will pull the best available seats.
If you require accessible seating, please make your request before completing your ticket purchase. Limit of up to 3 companion tickets per accessible seat purchased per transaction.
Please have your method of payment ready when you approach the window. One payment method per transaction (you cannot pay part cash and part credit card or use multiple credit cards).
We reserve the right to refuse service to anyone who does not abide by the policies listed above.
PAYMENT METHODS: MASTERCARD, VISA, (with photo ID), and CASH.   WE DO NOT ACCEPT CHECKS.
(Please note that the American Express Pre-Sale is through Ticketmaster only.  Aloha Stadium does not accept American Express).
PLEASE DO NOT ARRIVE AT THE STADIUM ANY EARLIER THAN THE TIME SPECIFIED FOR DISTRIBUTION OF THE RANDOM NUMBERS. THERE IS NO ADVANTAGE IN EARLY ARRIVAL, AS YOUR PLACE IN LINE WILL BE DETERMINED BY THE LOTTERY PROCESS.
THANK YOU FOR YOUR COOPERATION!!!
FAQs – CONCERT Event 
Will weather be a factor?
A. All concerts are held rain or shine. Please be aware that umbrellas are not allowed inside the stadium. Visit our prohibited items for details. 
Is this an all ages concert?
A. No, this concert is restricted to 5 years and older. Anyone under 5 years will not be allowed in.
Will there be portables and food sold on the field?
A. Currently the plan is to have portables and food sales in the Bridge Storage Areas adjacent to south end zone. 
Will tailgating be allowed?
 A. No.  Tailgating will not be allowed for this event. 
What is the fee for parking?
 A. Parking is $16 per vehicle; $31 for bus or limousine. Cash Only.
What time will Parking Gates open for the concert?
 A. Parking gates will open to the public at 4:00pm.
Is anyone allowed in the parking lot for the concert?
 A. Because of the sold out shows, and limited parking, only cars that have concert tickets will be allowed in the gates. Cars that are not able to provide concert tickets will be turned away.
What time will Turnstile Gates open for the concert?
 A.  All turnstiles will open to the public starting at 5:00pm.
Are there any bag restrictions?
 A. Each person shall be allowed one bag that does not exceed 12" x 6" x 12" in size.
In addition, each person will be allowed to hand-carry a blanket, poncho or jacket, along with a soft-sided seat cushion. Exceptions will only be made for medically necessary items, after proper inspection. Strollers must be collapsible and fit underneath the seat. Non-approved bags must be returned to vehicle or discarded.
The following items are PROHIBITED from entering the Aloha Stadium turnstiles:
Weapons; Noise Makers; Illegal Drugs; Cans & Bottles; Umbrellas; Coolers; Fireworks; Outside Food & Beverages (Snack Leis permissible, but must be pre-made with each item measuring no larger than 4" x 4" x 2", and no liquids); Inflatable objects of any kind; Confetti; Balloons; Lasers; Poles & Sticks; Skateboards; rollerblades; Bicycles; Animals (except ADA-Compliant Service Animals); motorized remote controlled devices (including drones); or any items which may pose a health or safety issue to our guests and employees. All bags, jackets, guests and vehicles are subject to search upon entering the premises.
What are the payment types accepted?
  A. The Aloha Stadium recommends bringing cash. Parking, and several concessions are cash only. There will be limited number of ATMs available and guests should expect long lines.
Will Swap Meet be open on concert day?
A. No there is no swap meet scheduled on Friday.
***ALOHA STADIUM WILL NOT BE RESPONSIBLE FOR LOST OR STOLEN ITEMS