24K MAGIC WORLD TOUR BRUNO MARS HOMECOMING – NOVEMBER 10TH & 11TH
November 10 @ 5:30 pm

-

November 11 @ 11:00 pm
Event Navigation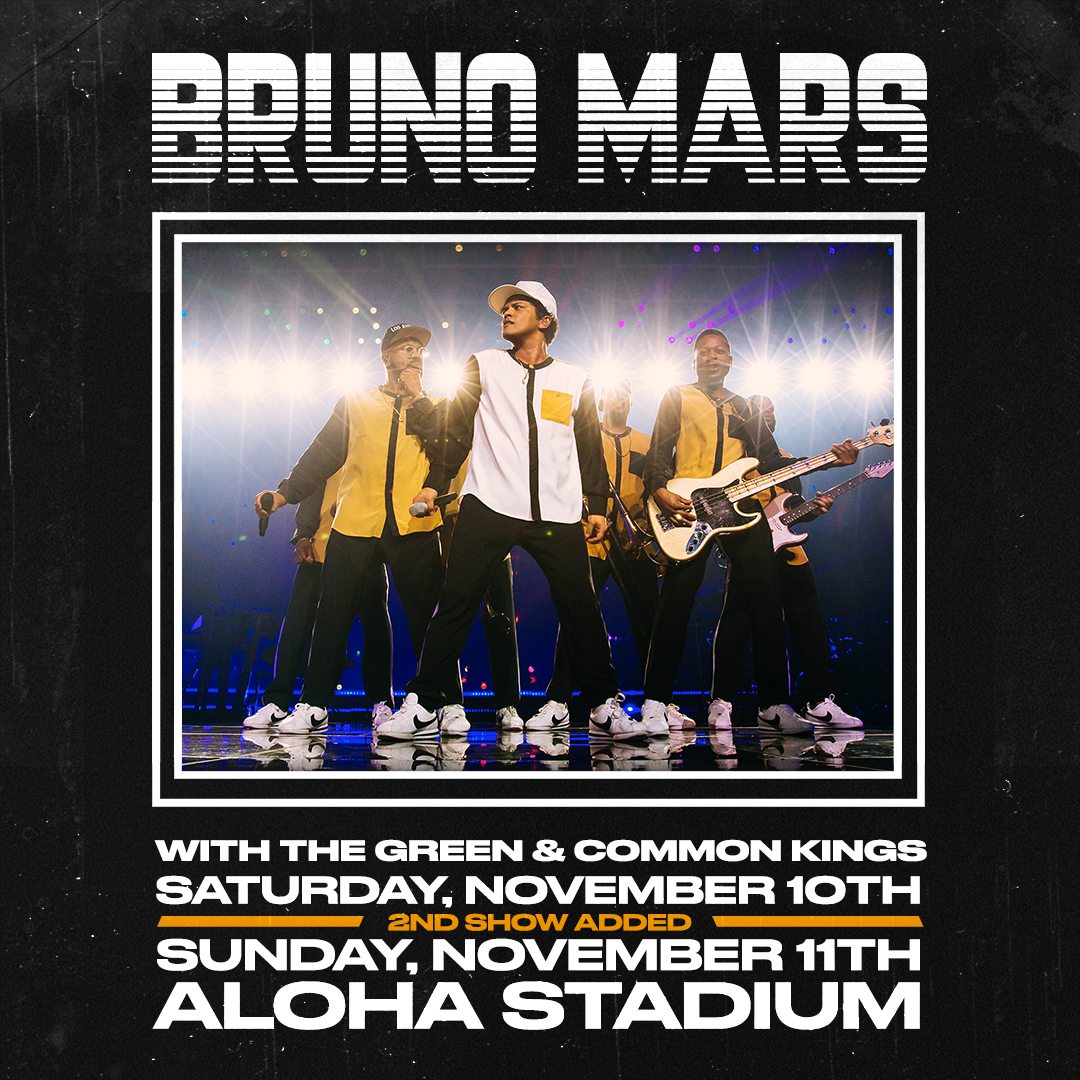 11x GRAMMY-winner and multi-platinum selling artist Bruno Mars has announced his homecoming to Hawaii
24K MAGIC WORLD TOUR BRUNO MARS HOMECOMING
SATURDAY, NOVEMBER 10, 2018
SUNDAY, NOVEMBER 11, 2018
WITH SPECIAL GUESTS THE GREEN & COMMON KINGS
ALOHA STADIUM
Both shows are sold out. Please visit Ticketmaster.com for verified resale options. 
The incredible 24K Magic World Tour kicked off March 28, 2017, in Antwerp, Belgium and will have made over 135 stops across North America, Latin America, Europe, and the U.K after its final leg. The massive outing has sold out stadiums and arenas all over the world, selling over 2 million tickets thus far, and 1 million tickets in a single day. The Tour will end with a homecoming celebration in Honolulu on the weekend of November 10 and November 11, 2018 on the Hawaiian Tel Federal Credit Union field at Aloha Stadium.
The 24K Magic World Tour celebrates Mars' 2x RIAA Platinum-certified album, 24K Magic (http://smarturl.it/24kmagic), released in November 2016 via Atlantic Records. The 24K Magic World Tour has been Mars' first full-length tour since his hugely successful Moonshine Jungle World Tour in 2013, an international blockbuster that sold 2 million tickets worldwide across 155 sold-out dates.
Mars most recently appeared on the 60th GRAMMY Awards for a show-stopping performance of his hit single "Finesse" with fellow chart-topper Cardi B. Mars. Mars also swept the awards that night, taking home the seven Grammys he was nominated for, including Album of the Year (24K Magic), Record of the Year ("24K Magic"), Song of the Year ("That's What I Like"), Best R&B Performance ("That's What I Like"), Best R&B Song ("That's What I Like"), Best R&B Album (24K Magic), and Best Engineered Album, Non-Classical (24K Magic).  Mars' 60th Annual GRAMMY wins make him only the tenth artist to win the "Big 3" (Album of the Year, Record of the Year, and Song of the Year) in the same night, following Simon and Garfunkel, Eric Clapton, Norah Jones, and Adele.
Frequently Asked Questions:
Ticket Information
 What is meant by "all ages" event?  Can I bring my baby without a ticket?
 A. Everyone that enters the stadium is required to have a ticket – including children of any age.
Are all seats assigned, or are there General Admission?
 A. All seats are assigned for this concert.  There are no General Admission tickets for sale.
Is there assigned seating on the field?
A. Yes, all seats for this concert are reserved.  Please visit Ticketmaster.com for a venue seating map and available tickets.
Any tips on how to avoid scam tickets?
 A.  To eliminate your chances of being scammed you should purchase tickets from Ticketmaster.com only.
Aloha Stadium will not be responsible for any 3rd party purchases and will not accept any other tickets or duplicates not purchased or associated with this promotion. Aloha Stadium is responsible only for onsite purchases. Tickets should be treated like cash and will not be replaced if lost. No refunds or exchanges.
FAQs – CONCERT Event 
Will there be portables and food sold on the field?
A. Currently the plan is to have portables and food sales in the Bridge Storage Areas adjacent to south end zone. 
Will tailgating be allowed?
 A. No.  Tailgating will not be allowed for this event. 
What is the fee for parking?
 A. Parking is $16 per vehicle; $31 for bus or limousine. Cash Only.
What time will Parking Gates open for the concert?
 A. Parking gates will open to the public at 4:00pm.
What time will Turnstile Gates open for the concert?
 A.  All turnstiles will open to the public starting at 5:30pm
Are there any bag restrictions?
 A. Each person shall be allowed One Bag that does not exceed 12" x 6" x 12" in size; OR One, one-gallon size, clear plastic storage bag (Ziploc or similar) And one small clutch bag that does not exceed 6.5" x 4.5" x 3.5", approximately the size of a hand, with or without strap. Non-approved bags must be returned to vehicle or discarded.
What are the payment types accepted?
  A. The Aloha Stadium recommends bringing cash. Parking, and several concessions are cash only. There will be limited number of ATMs available and guests should expect long lines.
Will Swap Meet be open on concert day?
A. Yes there will be a modified swap meet in sections 8-14 from 8:00am – 1:30pm on Saturday, November 10th and Sunday,
November 11th.
*Parking lot will be cleared after swap meet closes. Any cars remaining will be towed prior to gates reopening at 4:00pm.
***ALOHA STADIUM WILL NOT BE RESPONSIBLE FOR LOST OR STOLEN ITEMS